2008-07-20
Labels: abuse, child care, justice, SS failings
0 comments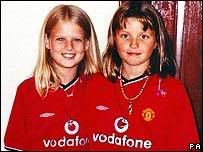 The murder of ten year olds Jessica Chapman and Holly Wells in August 2002 prompted one of the largest missing person investigations in British history. Few will forget the image of two best friends wearing matching Manchester United shirts or the thirteen days spent hoping upon hope that these girls would turn up safe and well. With the news that the bodies of Jessica and Holly had been found came the how and why.
The answers shocked the country. An inquiry later revealed that there were many lessons to be learnt from the Soham murders.



School caretaker Ian Huntley, 31, received two life terms for the murder of Jessica and Holly. After sentencing it emerged

# Nine allegations of rape, indecent assault on an 11-year-old girl and sex with underage girls while Huntley was living in Grimsby were not shared between Humberside and Cambridge forces
.
# No record of Huntley's past had been retained by Humberside Police, even though he was charged in one of the rape cases before it was later dropped.

# Huntley had confessed to having sex with one underage girl in 1995 but was not charged or cautioned because she did not want to prosecute.

He could have been cautioned though. And if he had, his name would have been on the national database for at least five years.

# Huntley's name was, however, logged on Humberside Police's own local computer system. In 1999 PC Michael Harding wrote a file on him, saying he was clearly a "serial sex attacker".
But the report was deleted during a review of the database a few months before Huntley applied for the job at Soham Village College.

# Chief Constable David Westwood conceded their intelligence system had "failed almost completely" and admitted he had been wrong to blame the Data Protection Act for the vetting process.

# The force also failed to update Police National Computer (PNC) records to include Huntley's alias surname of Nixon, so the response to any checks would have been "no trace".

They had twice been told Huntley and Nixon were the same person.

# Staff responsible for vetting job applicants such as Huntley were not able to access a database with information about sex offences and children.
Chief Constable of Cambridgeshire Police Tom Lloyd said his officers had not vetted Ian Huntley properly and its systems contained "weaknesses".

Two specific human errors were also made during the vetting process.

One staff member entered Huntley's date of birth incorrectly into the Child Access database, while another only looked on the national database under Huntley's alias surname Nixon.

Head teacher of Soham Village College Howard Gilbert said he did not follow up any of the five references Huntley provided at his interview, two of which were undated and three of which were almost 18 months old.
The director of a firm doing background checks for the Local Education Authority said she ticked the police check forms to say she had verified Huntley's personal details, when she had not done so.
# A senior social worker failed to link three underage sex allegations made against Huntley within one month in 1996.

Phil Watters investigated each case, and also failed to connect them with an earlier incident in which Huntley admitted sleeping with a 15-year-old girl.

# Mr Watters also admitted a letter from a local deputy head teacher raising concerns about Huntley had not been passed on to police.

# Deputy director of the council's child care department Martin Eaden said he thought the social services' handling of one specific allegation of underage sex was "totally inadequate in every sense".

The case was closed without the girl having been seen, her whereabouts established or her welfare assured.

in August 2002, a report by Sir Michael Bichard made 31 recommendations to the police, Home Office, Courts Service and other bodies. The proposals were part of a package of measures to make greater use of technology to monitor known dangerous people. Six years later and nine of the 31 safety measures needed to protect our most vulnerable have still not been implemented. A package was put together to make a solid structure. Together they form a connection but it only takes one missing link for a structure to collapse.
Time may have passed but the memory of Jessica Chapman and Holly Wells hasn't. Didn't their death mean anything.



Links to this post